I'm participating again in
Top Ten Tuesday
hosted by
The Broke and the Bookish
. Basically every Tuesday the peeps over at The Broke and the Bookish post their top ten lists on various topics. They even have a special
Top Ten Tuesday page
where they have previous topics and upcoming topics discussed as well.
Hah! I made it to 10. And maybe cheat a little bit but who cares? LOL. So here starts the author in no particular order...
1. JK Rowling
C'mon. Who invents a better Wizard world other than her?
2. Suzanne Collins
Please tell me she's going to write another book. I don't hear anything about her starting a new book.
3. VC Andrews
Flowers in the Attic just blew me off. I could read her books forever!
4. Stephanie Meyers
You have to admit no matter how much you hate Twilight, you still love it anyways.
5. Diane Setterfield
Maybe I should browse my mother's bookshelf a little bit more. Never thought an adult book could blew me off this well. I really loved The Thirteenth Tale but I couldn't find on anything if there's a second book :(
6. Cassandra Clare
I wish her book would come out much faster. C'mon Cassie. I need Will and Jace. But definitely Will =D
7. Veronica Roth
The same reason here. I could not wait 5 months for Insurgent. And thanks to Divergent, I met the most awesome blogger here. Do me a favor and check out her blog here at
Book Cover Justice
? And maybe follow her for some more extra points :D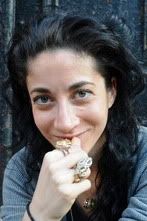 8. Lauren Oliver
I know she has lots of books that's going to come out this year but dang! Do I have to wait till February to get my hands on Pandemonium?
9. Ally Carter
'Nuff said. I just a need another book of Heist Society with a satisfying ending. That's all I ask :D
10. Becca Fitzpatrick
How about a story of how Patch falls?