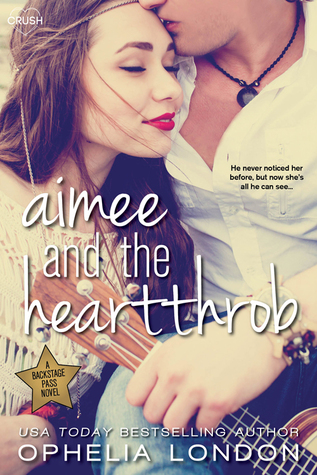 Aimee and the Heartthrob
By Ophelia London
Entangled: Crush, 223 pages
14th April, 2015
He never noticed her before, but now she's all he can see…
Miles Carlisle is every teen girl's fantasy. His rugged good looks and exotic British accent have helped catapult his boy band, Seconds to Juliet, to super-stardom. But after two disastrous and very public breakups, Miles isn't interested in dating just any girl; he wants The One. And the only girl he's interested in is not only his best friend's little sister―and off-limits―but won't even give him the time of day…
As a kid, Aimee Bingham had a huge thing for Miles…until he made fun of her for always tagging along. Now that she's outgrown both him and her pigtails. the prospect of spending two weeks on tour with the childhood crush who broke her heart isn't exactly enticing. Except now Miles seems interested. Very interested. And no matter how hard Aimee tries to resist him, her crush is definitely making a comeback.
But everyone knows that falling for a heartthrob is a backstage pass to heartbreak...
- goodreads.com description
Aimee and the Heartthrob got me hooked from the beginning. I read the whole book in one sitting.
I love the sneaky rendezvous Aimee and Miles had. Sneaking in private bus tours, into kitchens and running down hotel corridors. And how comfortable they are when bantering with each other. And their way-back-then history with each other. However, what I don't like is the many times they kept going down memory lane. Once, or twice was enough. But after that just feels repetitive and slightly annoying. But that didn't happen throughout the whole book so no worries.
I love how the author kept switching from Miles then to Aimee's POV back and forth. But I wished she had put more scenes with the side characters in it. I didn't feel any connection there with the side characters like with Aimee's brother, Nick. The brotherly touch was nice but I just wished he was more there in the picture.
This was such an adorable and lighthearted read. A classic cute contemporary that will put a permanent smile on your face by the end of this book. Also, perfect for readers to take a break from heavy books or heavy real-life problems ;)
Also, sign me up in Miles High Fanclub! The boy is so swwooooonnwwooorrrttthhhyyyy!!
USA Today bestselling author Ophelia London was born and raised among the redwood trees in beautiful northern California. Once she was fully educated, she decided to settle in Florida, but her car broke down in Texas and she's lived in Dallas ever since. A cupcake and treadmill aficionado (obviously those things are connected), she spends her time watching arthouse movies and impossibly trashy TV, while living vicariously through the characters in the books she writes.
Ophelia is the author of DEFINITELY, MAYBE IN LOVE; ABBY ROAD and CROSSING ABBY ROAD; the Perfect Kisses series including: FALLING FOR HER SOLDIER, PLAYING AT LOVE, SPEAKING OF LOVE, and MAKING WAVES; and the upcoming AIMEE AND THE HEARTTHROB for Entangled's Teen Crush. Visit her at www.ophelialondon.com, but don't call when The Vampire Diaries (or Dawson's Creek) is on.